AE 3D MOTOR :Racing Games Free
Racing Game – Can You Avoid Crashing Into Traffic?
If you like racing bikes on busy highways then this is an ideal racing game for you. AE 3D MOTOR: Racing Games Free is a fun game in which you get the chance to race lots of different bikes on a variety of tracks. It enables you to see just how far you can race a bike without crashing into a vehicle on the road. You have numerous different bikes to try out and can unlock various scenes as you level up. It is truly a test of your bike racing skills. Make one mistake and the bike is either going to crash into another vehicle or go off-road. So, you have to make sure that you avoid the vehicles and don't go too close to the opposite sides of the highway.
AE 3D MOTOR: Racing Games Free blends good graphics with addictive gameplay. The result of this combination is a racing game which is extremely fun to play. You will definitely try to play it again after a crash just so you can do better the next time. One of the reasons for this is that the controls of this game are easy to understand. You just have to tap on the screen in order to increase the speed of the bike. To steer the bike, you can either choose to use the tilt mode or the swipe mode. These control modes can be switched in the Settings menu. The game's music is awesome and really gets you feeling as if you are speeding on a highway during rush hour.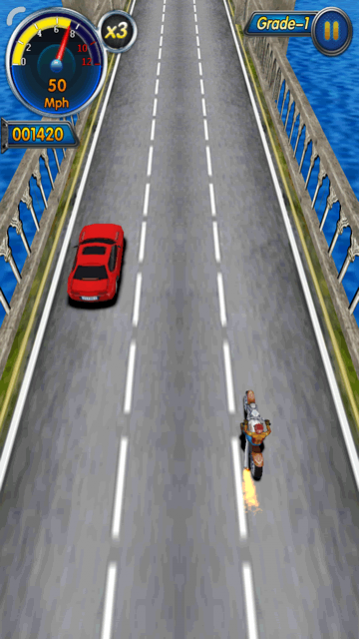 This racing game awards you coins on the basis of the number of vehicles you avoid crashing into while racing. Your quest in this game is to basically avoid hitting as many vehicles as you can and continue racing for as long as possible. The more distance you cover, the higher your score and winning amount would be. Moreover, you are awarded more coins if you are going at a higher speed. If your bike is moving slowly, you won't be able to receive a higher number of coins. Also, the closer you are to the vehicle when you overtake them, the higher the number of coins you gain. The game becomes more difficult as you cover more distance and the road becomes more crowded.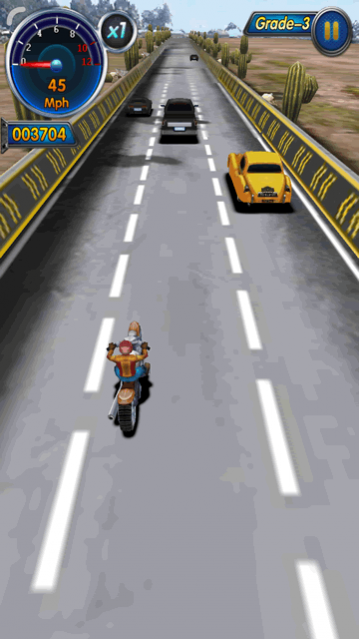 AE 3D MOTOR: Racing Games Free offers a variety of different bikes to you. At the start of the game, only one of these bikes is available for you to race with. You can unlock the remaining bike models by earning coins. Each new bike you unlock offers you the chance to gain more coins and a higher score. Aside from the bikes, there are various scenes that you can unlock in this racing game too. These scenes can be unlocked by reaching a specific level. You can increase your level by earning as high scores as you can. There is even a Ranking List available which shows how you rank among other players in terms of high scores.
Features:
A variety of bikes to ride
Multiple viewing angles
Two different control modes
Avoid crashing into traffic
Different scenes to enjoy while racing
Unlock new scenes by increasing your level
Increase your level by gaining higher scores
Go faster to earn more coins
Conclusion:
AE 3D MOTOR: Racing Games Free is a gaming app which is ideal for people who love riding bikes. It tests their bike riding skills and lets them ride bikes at high speeds on a highway full of traffic without crashing into any of the vehicles. It is a nice racing game to have on your phone if you are passionate about bike racing.
---
Add a review
Tell us your experience with
AE 3D MOTOR :Racing Games Free
RELATED PROGRAMS
Our Recommendations
---
---
---
---